Ranjiv Kalsi is a Registered Yoga Teacher (RYT200) from Yoga Alliance USA. Mr. Kalsi always aims to help people to get them out of various difficulties related to their body and mind. He never aimed money but committed to spread Yoga in people's daily life.
He has more than 10 years of experience of teaching Yoga (mainly in India, Mauritius and Canada). Apart from his Yogic practice since childhood, he got trained from Yoga-India, an internationally renowned Yoga school for advance teachers.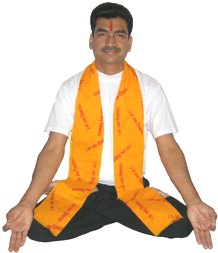 Yogic Skills
Yoga practitioner since childhood
Expertise in Classical Ashtanga Yoga for Asana (Postures), Pranayama (Breathing exercise) and Meditation teaching
Long experience in delivering yoga sessions in corporates (Yoga at work place)
Long practitioner and good teaching skills for cleansing techniques like Shankha Prakhshalana (Intenstine cleaning), Neti (Nostrils cleaning), Vaman-Dhauti (Volunteer vomit Cleaning)
Able to prove excellent results in the cure/prevention of deceases like back-pain, neck-pain, tension-headache, Obesity, Stomach disorder etc with Physician recommendation.
DesignsYoga programs for different requirements like Old-Age, Teen, Children, Disable, Decease specific etc
He has remarkable knowledge and delivers lecture on healthy life, food habits, quality life, motivation, work-life balance and management etc.
As an Astrologer
Ranjiv Kalsi has deep interest in Astrology; due to this interest he created this website to provided absolutely free astrology prediction for everybody. He believes that everybody should have right to get benefit from these ancient knowledge. You may enjoy your astrological chart and prediction just for free here
As a Web and Windows Applications Developer
Ranjiv Kalsi has great programming skills in Dot.Net, VB6 and clipper (ya! Old DOS days). More than hundred websites have been developed (of course including this website) using server programming and databases
As an OS, Hardware and Electronics Specialist
Ranjiv Kalsi has also vast experience in system administration and hardware troubleshooting.